come arrivare
Our property is reachable by (SS) 115 road connecting Trapani and Siracusa crossing all the
province of Agrigento. Here is the recommended directions from the main airports of Sicily.

Exit the airport and take the A29 highway towards Mazara del Vallo. Exit the highway at Castelvetrano and keep driving the SS 115 road following directions to Agrigento. After the junction for Realmonte take the road on your right and you will be in Via dei Giardini. Go straight on till the end of the treet.
Map
Via dei Giardini , Villaggio Bellavista
92014 - Porto Empedocle (AG)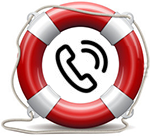 If you need other information on how to arrive feel free to call us:
Reception 0922-601217